Grounded!
March 14th, 2017 | International News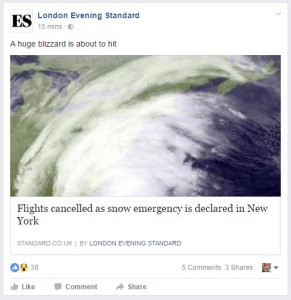 As I write today's post we should really be at Madrid airport boarding a flight to New York – but we're not. With an extensive tour of the U.S. planned for the next couple of weeks, the weather has now decided to intervene.
For the last few days I have been following the forecasts for all the States that we plan to visit – New York, Colorado, Tennessee and Florida, trying to anticipate what to throw into my suitcase. Until a day or so ago we understood that New York was going to be very cold, around freezing (with snow 'flurries'), which is in stark contrast to the heat predicted for Florida. It was always going to be a difficult trip to plan for.
Last night, with cases packed and ready by the door, we received an e-mail from Iberia (Airlines), simply stating that our flight had been cancelled – Panic! The reason, we now discover, is that the snow flurry has evolved into a major winter storm, wreaking havoc across the whole of the north-eastern United States. With 1 to 2 feet of snow predicted in the next 24 hours a state of emergency has been declared in New York and three other States.
To cut a long story short, we are now re-booked to fly on Thursday morning, from London. We shall see….