A question that arises with increasing frequency is to whether any of our wines are either Organic or Bio-Dynamic. The following few paragraphs will hopefully give some insight, not only into our approach toward these 'green issues', but also into the routines that we follow in the wine cellar relating to our own environmental policy.
Castro Martin is located in a verdant part of Spain, and the influence of the Atlantic Ocean gives Galicia a damp, humid climate. Owing to these adverse local conditions, officially certified Organic or Bio-Dynamic producers are almost non-existent in our denomination, but our climate does at least, allow us to follow Sustainable wine making practices.
Of course, the first and most obvious question is – what exactly is a Sustainable wine producer?
Probably the simplest and most succinct explanation is that sustainability refers to a range of practices that are not only ecologically sound, but also economically viable and socially responsible. The key to this is definition is 'economically viable', because this is more or less what distinguishes it from Biological and Bio-Dynamic. The Biological and Bio-Dynamic classifications are quite strict in their regulation, whereas Sustainable does at least allow for some degree of flexibility according to the needs of the individual producer. In many instances Sustainable producers employ many of the same techniques and materials used by Biological and Bio-Dynamic producers – they do after all share the same keen awareness of the preservation and protection of the environment, focusing especially on the control and use of pesticides.
VINEYARDS
By way of reference we have highlighted some of the vineyard practices that we follow in order to keep our Castro Martin wines as 'ecologically friendly' as possible. You will see that most of the procedures that we apply are preventative, to avoid disease even before it can take hold, and consequently minimise the necessity to use any chemical treatments:
Only natural worm humus is used, especially when planting new vines.
Soil management – No herbicides are used, only the traditional system of ploughing the soil when the vines are dormant.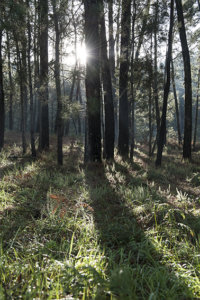 Natural grass cover between the vines is cut by tractor, and in this way we benefit from the organic material (mulch) that is left behind. In winter we allow sheep to graze our vineyards. Not only does this reduce the frequency of cutting required, saving tractor fuel, but it also provides a small amount of natural nutrient to the soil. If further nutrient is required then we may add some additional horse manure.
In order to prevent infestation and disease mainly preventive strategies are used, such green harvesting and thinning the canopy to avoid excessive humidity under the pergolas. This of course allows a better circulation of air and thus helps reduce fungal attacks. On occasions when attacks do occur we only use treatments that are approved in ecological viticulture, such as:
a) Copper in different combinations in the case of mildew attacks.
b) Soluble and powdered sulphur for the control of excoriosis and oidium.
c) Anti-botrytis (following insect attack or hail damage) when fungus may enter and create rot.
Pheromone traps are used to cause sexual confusion, controlling the polilla de la uva (grape moth) or lobesia botrana. In the case of an attack we treat with bacillus thuringiensis (which is an ecologically friendly treatment)
All vineyards are harvested manually which avoids damaged bunches and therefore prevents any premature oxidation.
The collection and burning of vine cuttings after pruning can also reduce the possible spread of fungus spores in the vineyard.
As sustainable wine producers we also consider the impact of our practices to the land that surrounds our vineyards.
BODEGA
Sustainability does not only apply to our vineyards and grape production, but extends fully into the bodega itself. This takes the form of many different procedures and projects.
The effects of good working practices are sometimes quite difficult to quantify, and whilst there is no official accreditation, we are extremely pro-active on many different environmental fronts.
For example, we are quite obsessive when it comes to re-cycling and have re-cycling containers throughout the bodega for every type of material – wood, glass, metal, paper, plastic and organics.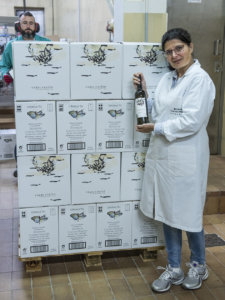 The bottling line is probably the greatest generator of waste materials. Packing materials from the pallets of bottles, corks, capsules etc are carefully separated (mostly cardboard and plastics) and taken to a local re-cycling centre the following day. Some of these materials (especially cardboard), can also be saved, and then re-used for other purposes within our production.
In order to reduce our carbon footprint as much as possible, we have changed the ordering patterns of our 'dry goods'. By simply holding more floor stock of some bottling materials we can reduce the number of truck deliveries required by a significant amount.
After a long search to find an aesthetically suitable replacement, our new, lighter weight bottle was introduced some ten years ago. With a very similar appearance and feel to the previous model, it is almost exactly 100g lighter. This equates to a total weight saving of between 60/70kg per pallet (dependent upon the configuration). This reduction in weight not only saves fuel as our pallets are transported by road and sea, but they also require less energy to produce. (Click here to learn more)
Perhaps one of the most significant contributions to both innovation and ecology is our use of a synthetic cork – but not just any synthetic cork. After years of testing and working hand-in-hand with our supplier, we now use the world's first zero carbon footprint wine closure – the Nomacorc Select Green 'corc'. Indeed, Castro Martin was the very first Bodega in Spain to use this unique environmentally-friendly closure. Select Green is fully recyclable and made using renewable, plant-based biopolymers derived from sugar cane. (Click here to learn more)
Other energy saving measures include lighting. This has now been replaced throughout the bodega by low consumption LED, which in some areas is controlled by movement sensors. Of course, there are many other smaller savings that we make which are simply too numerous to detail here.
In summary, you may now appreciate that Sustainability encompasses our entire production cycle, from start to finish. with every stage of the winemaking journey being accounted for. At Castro Martin (as socially responsible producers), it is a commitment that we undertake very seriously.
VEGETARIANS:
Please note that our Albariño is suitable for vegetarians as we do not use any meat, dairy or fish derived products during handling or vinification.