OK, so I'm a hypocrite!
July 19th, 2016 | Competitions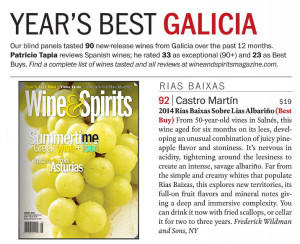 No sooner had I written that medals and reviews can sometimes work against you, than we start to pick up new accolades. Within the space of days, a silver medal and a 92 point rating – in two entirely different markets.
In the UK we received a silver medal for our Bodega Castro Martin 2014 at the International Wine & Spirits Competition. (I should quickly mention that no Albariño achieved gold medal status, meaning that we were at the very top of our category – we will have to try harder next time to achieve gold!).
Meanwhile, over in the United States, the Wine and Spirits Magazine (August Issue) just awarded our Castro Martin Family Estate 2014 an impressive 92 points, putting us at the top of their tasting and  listing us as both "Year's Best Galicia" and "Best Buy". Their tasting note was as follows:
92, Castro Martin, 2014 'Sobre Lias' Albarino (Best Buy): From 50-year-old vines in Salnes, this wine aged for six months on its lees, developing an unusual combination of juicy pineapple flavor and stoniness. It's nervous in acidity, tightening around the leesiness to create an intense, savage albarino. Far from the simple and creamy whites that populate Rias Baixas, this explores new territories, its full-on fruit flavors and mineral notes giving a deep and immersive complexity. You can drink it now with fried scallops, or cellar it for two or three years.
As I always say, don't just take their word for it, buy a bottle and judge for yourself!