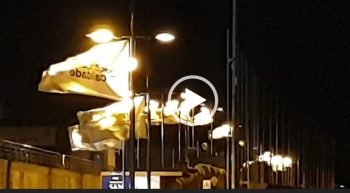 December
December 19th, 2022 | Bodega
The weather this December has been a changeable to say the least – some weather typical, some not quite so typical. The typical part is that it has been quite a wet month. Indeed, as I write this post we are being lashed by strong winds and driving rain, it really is very wild and unpleasant outside. In contrast to this a lot of the month has been quite mild, whereby, apart from one cold snap at the beginning of the month (with only one night of frost that I can recall), temperatures have remained mostly in the mid-teens °C, ranging largely between 13° and 17°C (55° to 63°F). This is actually a bit of a relief, because the usual Galician combination of cold and humidity can be really bone-chilling.
There have been some dry days, and a few sunny days, but these have been few and far between, and so our seasonal work in the vineyards has been tough to say the least.
Our Christmas orders of wine are all wrapped and distributed, and so apart from a few odd cases here and there, the last week before the holidays is likely to be quite quiet. Time to catch up on some admin and other chores. Perhaps tomorrow, we might make one final tasting of our tanks of 2022 wine before the end of the year, just to see how they are progressing. I have high expectations!