Exploiting every centimeter!
July 20th, 2022 | Business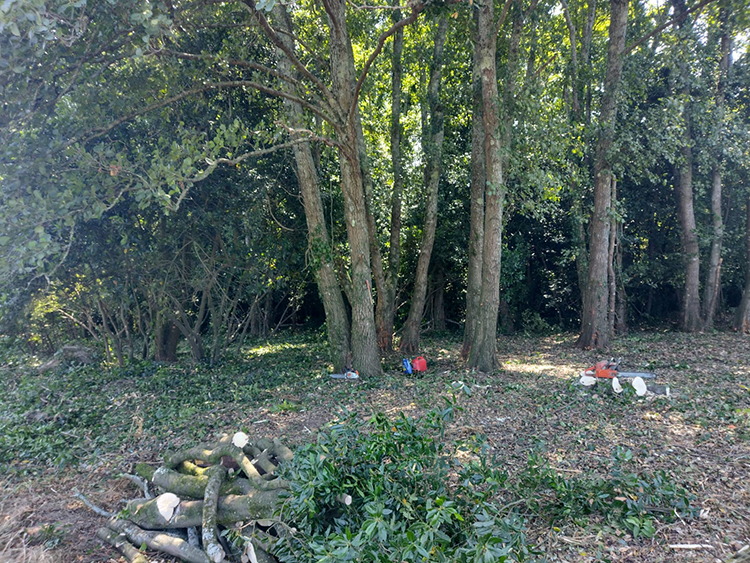 In the last week or two, despite the baking temperatures, we have been clearing the corner of one of our vineyards. Yes, this did involve cutting a few trees, but I should emphasise that we did seek the appropriate permissions, and that the trees that we cut were mostly eucalyptus, not indigenous to Galicia, considered by many to be invasive, and the cause of many a forest fire in our region. There were two, or perhaps three reasons for doing this work….
Firstly, because we are obliged by law to clear forest areas and scrub land, precisely to reduce the risk of fires. Secondly, because this small piece of land is actually registered as a vineyard, and has never been exploited as such. And thirdly, because of the price of grapes at the moment!
This third reason is actually a major concern for Rias Baixas this year, and all because of one single bodega! I shall not name the property concerned (perhaps for liable reasons), but every bodega locally knows exactly who they are, and that they are owned by a much larger Company from outside Galicia. The simple fact is that they are desperate for grapes, and as such have been making ridiculous, unsustainable offers to local growers, often going door-to-door and poaching thousands of kilos of grapes from their neighbouring wine cellars. I should mention they the size of the bodegas that they are plundering from are not small, and have been left very, very angry indeed (something of an understatement).
Suffice to say that these tactics (apart from being completely unethical), have caused an artificial surge in the demand for grapes, and will no doubt result in highly inflated prices, just at a time when consumers are reducing their spending, and perhaps seeking opportunities to trade-down a little. Enough said, I will stop before my blood boils!