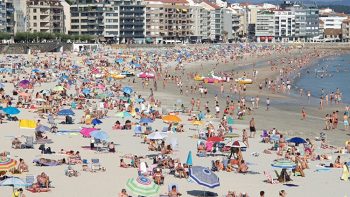 Topsy-turvy!
July 12th, 2022 | Galicia
A few days ago I was a guest on a 'digital tasting' organised by Tim Atkin MW. Tim had visited our bodega a couple of weeks earlier, and during our conversation I had described our recent weather as a bit topsy-turvy (upside down, or in a state of confusion). Little did I know that Tim would quote me on this during his introduction.
In the last couple of days, since this Zoom tasting (all the participants were sent sample bottles), there has been yet another example of the extremes of our recent, crazy weather. On Saturday temperatures hit about 36°C (97°F) and our local beaches were packed (for those who could stand the heat). On Sunday the cloud rolled in, and by Sunday afternoon, through until Monday, the thermometer never hit much more that 16°C (61°F) – less than half of the previous days temperature. This was accompanied  by a very fine 'mizzle' hanging in the air (a cross between a light drizzle and mist from the Ocean).
Today, Tuesday, we are bracing ourselves, with a forecast high of more that 40°C (104°F). This temperature is expected to continue at least until the weekend. Having said that, a week of two ago most of Spain was affected by these high temperatures, but luckily, our small, isolated corner of northwest Spain had pretty much escaped. This week it appears that we are not quite so lucky.