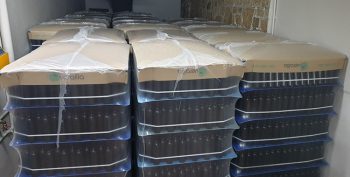 Gold!
May 24th, 2022 | Bodega
This morning, in the bodega, we received a truck fully laiden with gold. Well, it was actually full of bottles, but at the present time (for a wine cellar), that is almost as valuable.
I have talked before about the 'perfect storm' when all the stars aligned to create a supply chain crisis, but since that time we can now add the crisis in Ukraine to the list. Businesses are still playing catch up, the supply of raw materials has dried up (for some sectors), and the sharp increase of energy prices have all added to a system already under extreme pressure.
Since the turn of the year, and possibly even before that, the demand for bottles has increased. This is due, in part, to the soft drinks industry. New taxes have been applied to the use of plastic bottles in packaging, and so may producers are now turning back to glass as an alternative. (I say 'turning back' because only a few decades ago the vast majority of soft drinks were sold in glass. In effect, we have gone full circle).
Over recent months, large cellars around Spain have been stocking up on glass, adding further pressure to an already oversubscribed market. Consequently, we have been almost begging our supplier on a daily basis to send us bottles, and today we took a small, but positive step in helping to overcome this major concern. It's a simple equation: no bottles=no wine, so we hope that this delivery will be the first on many over the coming months.