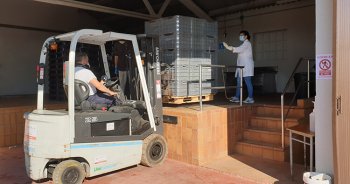 Harvest 2020
September 8th, 2020 | Bodega
Whilst the weather is actually warm, bright and sunny, we start our second day under a bit of a cloud, as we hear stories from the Rioja region of spreading virus and further lockdowns. As if a harvest is not challenging enough, I cannot begin to imagine what it might be like with even more strict controls than we already have. Hard, physical work wearing a mask is not easy, especially when the weather is hot and sunny.
So today we continue picking in our second biggest vineyard, Castrelo, which provides some of the fruit for our Family Estate wine (the rest coming from El Pazo). This year we have modified our transport system a little, which not only makes it more efficient, but also helps to reduce our carbon footprint. Castrelo is our most distant vineyard, about 10km from the bodega by road, and in the past we have transported our fruit using a tractor with trailer. We can load 110 cases on a full tractor/trailer, and each round trip takes about 40 minutes (excluding loading and unloading).
This year we are palletising our 20kg cases in the vineyard, and then loading 12 full pallets of grapes onto a medium sized truck. One truck load is the equivalent of four tractor loads, and so this will obviously help in reducing our carbon footprint – not to mention that when the fruit arrives it is already on pallets and easier to manipulate in our grape reception.
For the technically minded, the balance of our grape must is very good this year – pH and acidity at the levels we would normally hope for. As with the last couple of vintages, the only slight anomaly is the alcohol, which, after a long, hot summer is just a little high again. At this point my guess is that we will probably land somewhere between 12.5% and 13% alc., but with the acidity that we have, this should not present any problem.