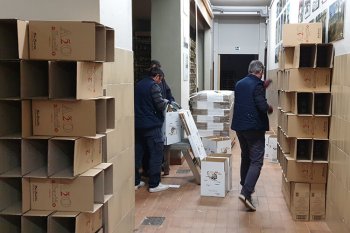 Carton day
February 25th, 2020 | Bodega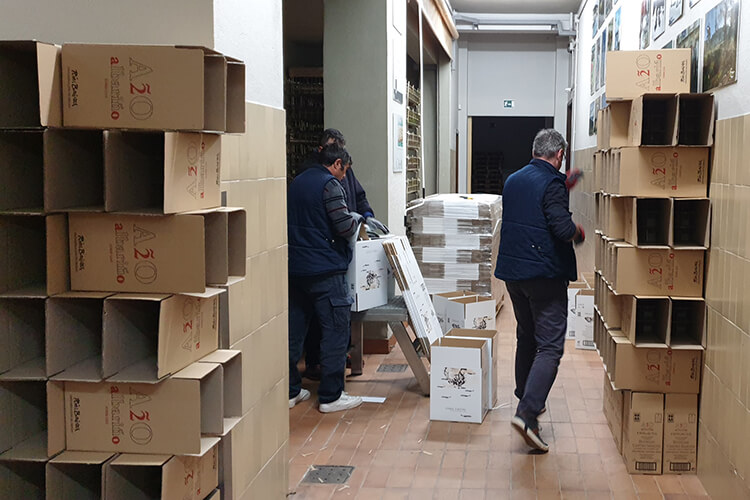 I guess that our guys are quite grateful that today we have a day inside the bodega making cartons. After 4 or 5 days of warm sunshine, today is quite grey and miserable, and so we are preparing the materials required for bottling a tank of wine tomorrow.
Our albariño is always stored in tank, and only bottled as and when it is required. We follow quite a simple rule (especially relevant for white wine), that the larger the storage vessel, the longer the wine will stay fresh. So obviously, storing wine in a air-tight tank, topped up with nitrogen, will preserve its freshness better than it would by bottling the whole vintage as soon as the wine making is complete. In the same way, a magnum generally keeps better than a bottle, and a bottle better than a half bottle, but of course all this will depend on how any sized bottle is stored.
Anyway, it occurred to me, that in all the posts I have ever made, I have never really mentioned our cartons. They arrive flat-packed and therefore have to be assembled. We normally do this the day before in order that they don't absorb too much humidity from our damp, Galician climate. I should also mention that whilst some of our cases might not be the prettiest, they are actually selected for their strength, and how well they can protect our wine in transit…. after all, it's a long journey from our bottling hall to say, a restaurant table in Melbourne!