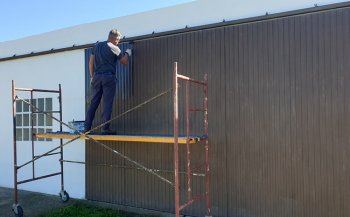 Making hay (whilst the sun is actually shining!)
October 11th, 2019 | Bodega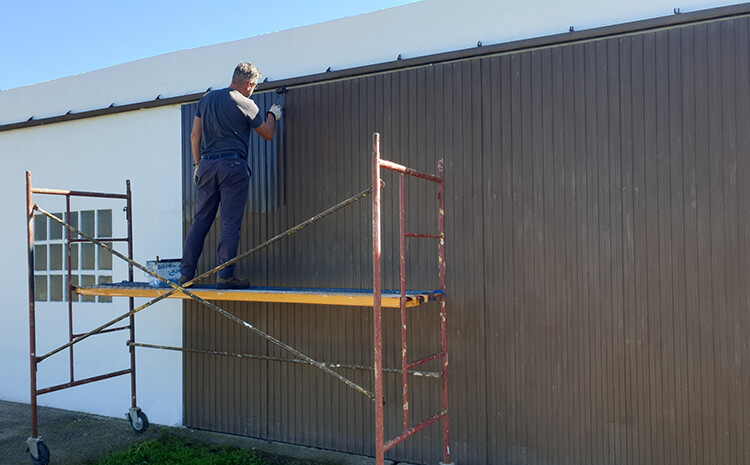 Now that the wine making is all but finished (with fermentations nearing an end), we have a bit of a lull in proceedings before we are able to start pruning. Orders have been prepared and most have been sent out, meaning that we will probably replenish with some new bottlings next week, but in the meantime there is still plenty of work to be done. It is the time of year for maintenance and repairs, and a couple of days of very pleasant sunshine has provided us with the opportunity to work outside. The huge metal doors and shutters that we have on nearly all sides of the bodega require a new coat of paint. Even the limited amount of sun that we have here in Galicia eventually takes its toll on the special enamel paint that we use.
Meanwhile, inside the bodega, with some fermentations almost complete, a slightly clearer picture is starting to emerge of how the final wine might actually unfold. Certainly, the alcohol will be somewhere between 12.5% and 13.0% (maybe a touch less than our 2018's). The other factor that differentiates the two vintages is that the acidity in 2019 is just a bit more prominent, meaning that the style of the finished wine might be slightly nearer to that of a typical albariño.
Allow me to repeat yet again. Please don't misunderstand me, our 2018 is really a very good wine – certainly a bit riper and fuller in style than usual, but still a very good wine that will not disappoint in any way. If anything our 2019 might be even better, ripe, fruity, attractive but whilst also retaining it's usual fresh acidity. Only time will tell whether I am right or I am wrong, but then that's the great thing about wine…. every vintage leaves it's own signature, and proves that wine is a unique product that has it's very own character and style!