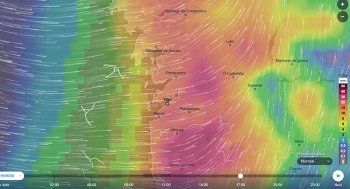 Goodbye Miguel
June 10th, 2019 | Weather
I am not sure which changes faster – the weather forecast, or the weather itself, but I do know that the forecasters for Galicia often have problems keeping up. The weather here can change in a heartbeat, the problem being that it is not always predicted.
At the beginning of last week our forecast was for clear skies and sunshine, but then, almost within hours, this prediction had changed to include the possibility of some rain. By the time it finally arrived it had transformed itself into a full-blown (named), storm, with driving rain and high winds. Storm 'Miguel', blew in during Thursday afternoon, a little earlier than predicted, with high winds and torrential downpours, but then blew out, almost as quickly as it had appeared. Within hours 'Miguel' had vanished, leaving behind our current period of unsettled weather, as it tracked off towards the UK. (Today's image is a screenshot showing precipitation over Galicia at the peak of the storm).
Thankfully, our flowering period was already behind us, and so this Spanish storm has caused no lasting damage to our vineyards.