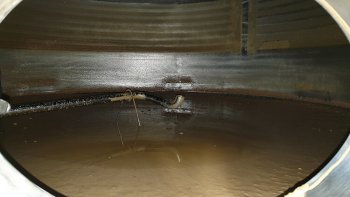 Ageing is at an end….
May 7th, 2019 | Bodega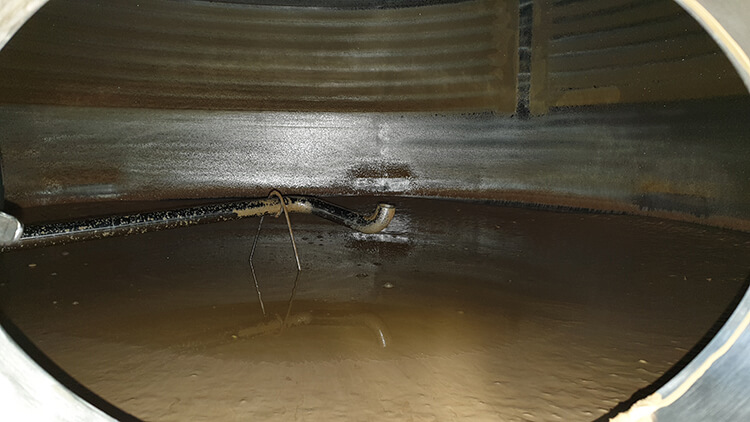 As though we could ever forget, wine making is an annual cycle, and often, when I am writing our posts, I feel as though I am repeating myself (which is clearly the case, and not simply down to my old age!).
For example, we have today started to rack the first of our 2018 wines. After around 8 months resting quietly on their lees, we have finally started to transfer the first few tanks – leaving the lees at the bottom, and effectively skimming the clean wine off the top and moving it to clean tanks. Once this process has been completed, then these clean tanks will not be touched or moved again until we prepare them for bottling. The objective being, as always, to restrict the movement and  handling to the absolute minimum, which is of course, fundamental in a white wine cellar (reducing the risk of oxidation as much as humanly possible).
Today's photo (just in case you had not seen this before), shows the lees left at the bottom of the tank – not pretty and not particularly drinkable either! Despite the fact that it takes the form of a brown/grey sludge with quite a thick consistency, it's usefulness is still not at an end. This sludge will be collected in containers and sent to our local distillery to be used for making aguardiente. As you may gather, almost nothing is wasted, and everything is re-cycled or re-used wherever possible.
By the way, that is not dirt or rust on the inner walls of the tank, these are simply the tartrate crystals (potassium bitartrate) formed by the cold temperatures used during fermentation and ageing.