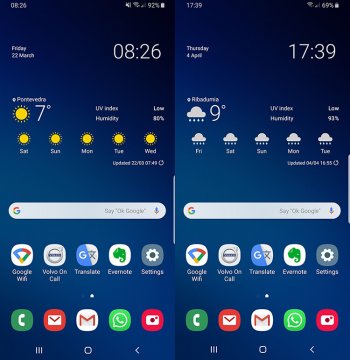 Return to winter!
April 5th, 2019 | Weather
After several weeks of dry sunny weather, and temperatures sometimes reaching as high as the mid-20's C (68-75°F), since the beginning of April we have witnessed a big change. Nights are suddenly just a degree or two above freezing and daytime temperatures are barely reaching double figures (°C). Not only that, it is raining – but we can't really complain – we really need it! Obviously this cold, wet weather makes it feel like winter again, and our big jackets that had maybe been packed away, are now very much the order of the day again.
OK, so today's picture is only two screengrabs from my phone, one from two weeks ago, and the other from today – but simply by looking at the weather icons you can really see the difference (even if a daytime temperature is not displayed).