More shoes!
April 3rd, 2019 | Food & Wine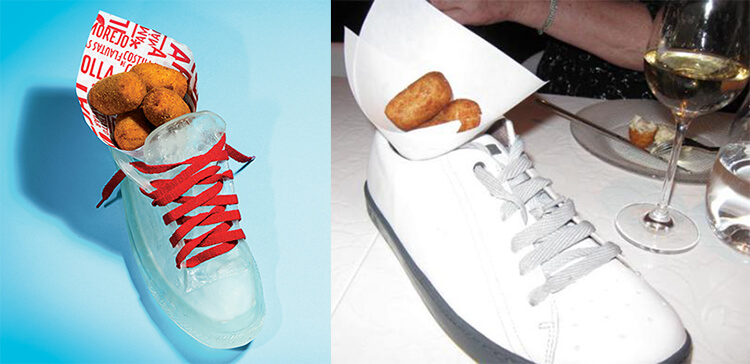 Please don't worry, I promise that one day soon I will write something about wine again! In the meantime I have become a bit obsessed with using the appropriate receptacle for serving food (it's really just a hygiene thing, I promise you).
I received an e-mail today from ICEX – Foods and Wines from Spain – effectively run by a branch of the Spanish Government. On the homepage they included a photograph of a 'high top' sneaker containing food. I couldn't help myself, I had to investigate…
The shoe is apparently used by Spanish chef José Andréas in his Spanish/American restaurant chain Jaleo in the United States. The offending dish is a serving of croquetas (I say offending, because the thought on using an old re-used shoe on my dining table offends me).
It simply seems that some chefs are obsessed with finding original (and ridiculous) ways of serving food these days, and to be honest, under current Health & Hygiene laws, I am quite surprised that some of them are allowed to slip through. In this particular case (as you will see from the photo) whilst one pair is made from resin, the other appears to be quite real – unused no doubt, but still not perhaps the most hygienic platter for something that will no doubt be re-used over and over again. You can hardly put a shoe through the dishwasher each time it's used!
Please believe me, I am not a snowflake (perhaps just a bit old-fashioned and more traditional)!