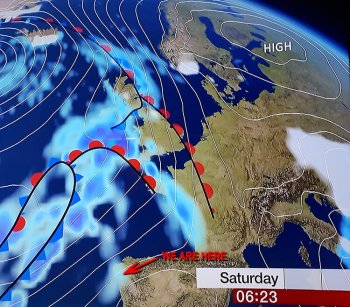 Weather
December 12th, 2018 | Weather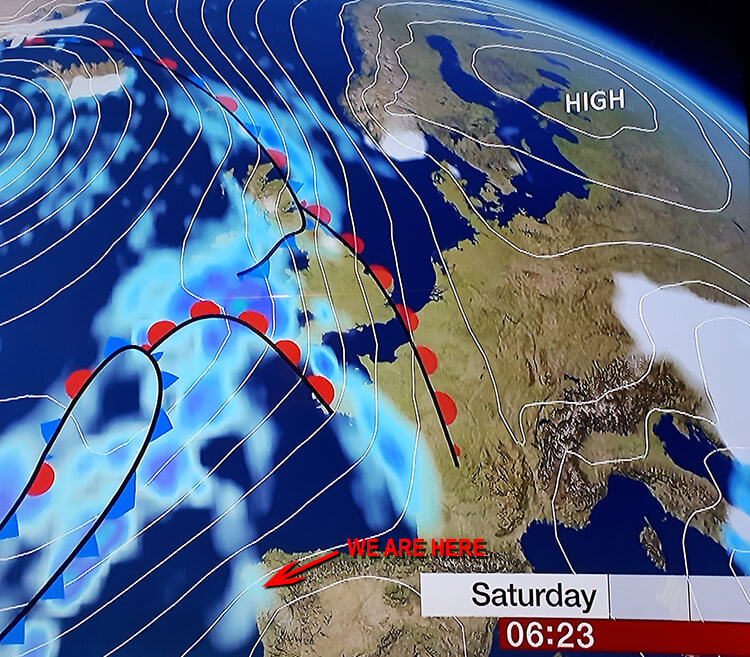 Often, when I meet or talk to friends from the UK they ask me what the weather is like in Galicia (so it's not only me that is obsessed by the weather). Apart from a couple of recent climate aberrations, my reply is usually the same. It's actually quite similar to the UK, but maybe a few degrees warmer. (I think the majority believe that I am living in something more akin to a Mediterranean climate and that the sun shines every day, and so they are usually quite surprised by my answer).
The fact is that our climate is quite moderate, not excessively cold, nor excessively hot, the significant factor being the damp and often penetrating humidity that we have pretty much year round. This is, of course, why our D.O. does not really produce organic or biodynamic wines – sustainable yes, but organic very, very difficult, if not impossible.
Going back to my original point, I took a quick photo of my TV screen this morning, which rather illustrates my theory. Many of the weather systems (usually arriving from the Atlantic), have fronts extending from southwest to northeast. As you will see from the forecast, this means that weather arriving in the UK, often clips across our location in Northwest Spain as well as the Bay of Biscay before hitting UK shores. Obviously, the slightly higher average temperature comes simply from being that bit closer to the equator. Please note that the rest of Spain is bathed in winter sun under a High Pressure system!