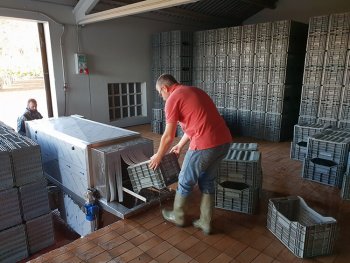 What a difference!
October 8th, 2018 | Bodega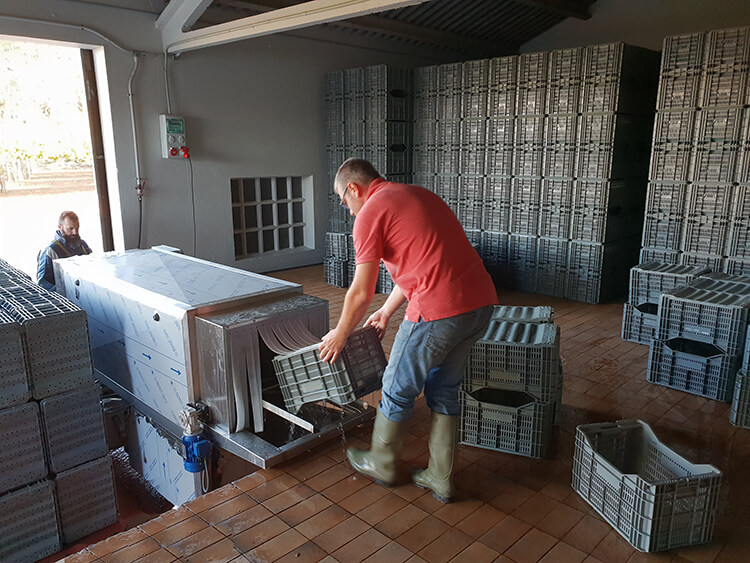 One of the biggest post-harvest jobs that we have to do, apart from the wine making, is cleaning the cases that were used for collecting grapes – we have about 2,000 of these.
In previous years they were washed case-by-case using a pressure washer, simply because there was always a build up of grape juice almost 'baked' onto the plastic. This year it is a little different….
With our new case washing machine (inaugurated at the beginning of the harvest), every case was washed thoroughly each time it was used. A conveyor-like system pulls each case into the machine where it is 'attacked' from all sides by a set of high pressure water jets – this removes all the lose dirt. It then undergoes a second wash in clean water (re-cycled through filters) before it is left to dry. The result is that, over the period of the harvest, there is no dried juice build-up (our old wash-by-hose method was not quite so effective), and the cases are always completely clean and dry.
At the end of the harvest we now simply give all the cases one more final wash before they were stacked away for next year. Any that that fail inspection are separated and undergo a quick pressure wash to remove all residuals. This year, using the machine for this final wash took just over one working day, whereas our old method employed three people for a period of up to two weeks! Now that's what I call a labour (and cost) saving investment!