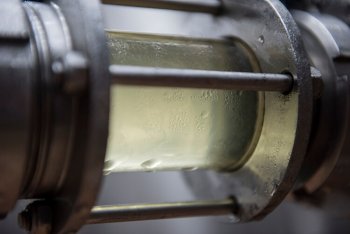 Harvest 2018 – Day 3
September 22nd, 2018 | Uncategorized
Last night we spent a long time deliberating about the weather – some website said 75% chance of rain, and some said 20% – so who to believe? In the end we used our old saying, 'open the curtains in the morning and take a look'! There was no rain, and indeed the sun was just about poking through.
As the picking continued unabated in our vineyards, so we embarked upon our work inside the wine cellar. After a period of 'cold-settling' we racked the grape must (juice) into clean tanks. This year the cold settling (when all the pips, stalks, soil etc. 'settle' to the bottom of the tank), is especially significant. As there has been little or no rainfall for the last couple of months the vineyards are obviously very dry, and one of the consequences is dust! When the grapes enter the bodega they are, inevitably, covered in a very fine, invisible layer of dust that unfortunately ends up in the presses. As a result, the juice is a dark green/grey colour with a slightly brown hue. The average consumer would certainly be shocked by this and would probably wonder how on earth this dark, opaque juice could eventually end up being a bright, clear white wine. That is really the function of the cold settling…. after a period of 48 hours we end up with a limpid, clean grape juice.
Today's photo shows the special glass link that we connect to the tank to monitor the clarity of the juice as we transfer it. In Spanish this is known as a 'mirilla' – almost like a looking glass, but without Alice!