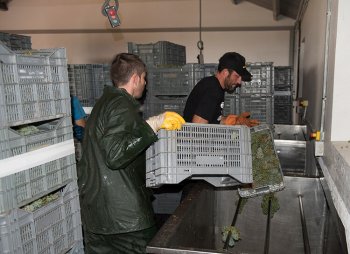 Harvest 2018 – Day 2
September 21st, 2018 | Bodega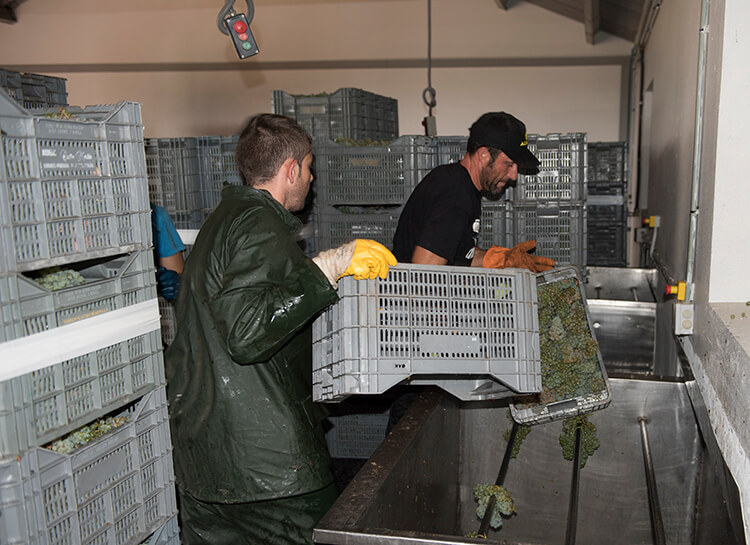 After a slightly fraught, late night yesterday, the new morning didn't start so well. One of our famous Ocean mists had rolled in from the Atlantic leaving the whole area shrouded in a cold, damp cloud. We knew however, that the sun would eventually burn through, and by mid-morning it had done exactly that – picking was not delayed.
Today's minor trauma was a puncture! The trailer on one of our tractors burst a tyre, but quite fortunately, just as it was arriving at the bodega and not in the middle of it's journey. Of course we had the equipment on hand to make a relatively speedy repair, and so I guess it was hardly worth mentioning!
In the meantime the grapes continue to arrive, today in a steady flow, rather than yesterday's late rush. Apart from yield that I mentioned yesterday, there is another attribute that we have noticed in this year's fruit. There appears to be more variation in bunch sizes (related to individual vineyard sites), than in previous years, which is why we always pick plot-by-plot in a strict order. Obviously this variation is down purely to our Spring weather – cool, damp and hardly ideal for the flowering period. On a more positive note, the warm, dry conditions during August and September have probably yielded better quality than we had anticipated.
By the way, as I mentioned in my previous (special) post, the new case washing machine has had an amazing impact on our grape reception – cases can now be washed the moment that they are emptied into the presses. No more stacks of dirty cases, and no more hosepipes!