Flaming June? I think not…
June 11th, 2018 | Vineyards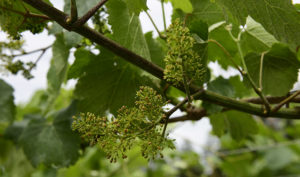 Now, I don't profess to be any kind of meteorologist, but I do recognise when something's not quite right. Here we are well into the month of June, and the weather here in northwest Spain is pretty poor to say the least. Daytime temperatures have hovered around the mid-teens °C (60-65°F), it's grey and there has been a fair amount of rain. Our flowering period started reasonably well, in relatively dry conditions, but then it all went a bit down hill. Some flowering was complete before the rain, but for the rest we will have to wait to see what long-term effect that this cool, wet weather will have. I rather suspect that the flowering will prove to be uneven.
The odd part of this is that in some areas of northern Europe (across the UK, Belgium and Holland for example), they have been enjoying hot, balmy, summer conditions with temperatures into the mid 20's, perhaps as much as 10°C more than our corner of Spain. This topsy-turvy weather has persisted for some time now (the whole of May) and to be honest I don't really remember ever seeing this type of persistent weather reversal before.
Back in the UK, my friends still believe that I spend my time basking in a warm, sunny climate – clearly they have not visited Galicia!