Let the racking begin
June 4th, 2018 | Bodega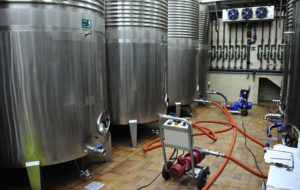 The fermentation of our 2017 wines finished at the beginning of October last year, and since that moment our wines have been resting quietly on their lees. Today, some 8 months later, we have just started the annual racking. Over the winter the lees settle to form a sort of thick paste at the bottom of the tank, and today we are simply drawing off the clean wine from above (making sure that the don't disturb the lees in the process).
It's actually quite a slow process, with long periods of inactivity as we wait for the precious liquids to be transferred. Once the clean wine is relocated we then transfer the lees into large airtight containers to be sold to the distillery for making aguardiente. Nothing is wasted!
The final job is to clean the interior of the empty tanks, which is a chore in itself. The walls of the tanks are nearly always thick with brown crystals that resemble rust (from the tartaric acidity in the wine), and they can be quite tough to remove. We have to use a caustic solution, but then making absolutely certain that the tank is rinsed thoroughly before it is ready to receive the next wine.