So what does it cost? Part 1
May 15th, 2018 | Bottles and bottling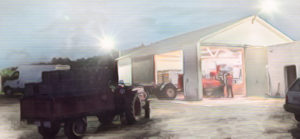 There used to be an advertising campaign on UK TV for bars of chocolate. The slogan was something to the effect that it took 1½ glasses of milk to make one bar of chocolate…. without actually specifying the size of the glass, or the bar of chocolate!
In the world of albariño I can tell you that it takes approximately 1½ kilos of grapes to make one 75cl bottle. Of course this seemingly simple calculation can sometimes be compounded by the price of the grape itself. Even if a bodega owns 100% of its own vineyards (which not too many do in Rias Baixas), the cost of grapes still fluctuates. Of course, yield can be controlled to a certain degree but will always vary a little, and labour cost in the vineyard can change according to the growing season, depending on how much work is required. Then there is also the cost of buying, maintaining and running tractors and other equipment that has to be factored in. On top of this, if you are then obliged to buy additional fruit on the open market, it can become a bit of a lottery. Grape contracts do exist, but some can end up being quite meaningless as market demands can often put a strain on persuading growers to honour them!
So once we have our 1½ kilos bought and paid for, safely in our tanks, then what else needs to be included in the final bottle price? Believe me, it's a long list! Materials for making the wine, materials for bottling the wine, labour costs, and not to mention the overheads of running the bodega itself – electricity for machinery etc. Next comes the outer packaging, cartons, pallets, pallet wrapping, even before we can even consider moving the wine.
In export we are rarely involved in the cost of transport, but there will always be some element of (expensive) road haulage involved. With pallets weighing in at over 1000kg each (even using our Eco friendly lightweight bottle) the cost of moving them around, especially by road, does not come cheap. Sea container transport does work out much cheaper, but then this is usually limited to customers outside Europe, with the odd exception.
With all these elements quickly adding up the wine is finally on route, and the cheaper part of the final bottle cost has been explained. The really expensive part of the calculation I will save for another day!