The Rainbow Paseo
May 3rd, 2018 | Galicia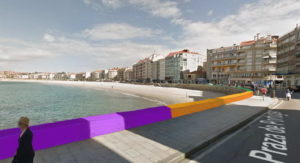 I mentioned the other day that the Spanish Prime Minister, Mariano Rajoy, likes to spend his summers here in Galicia (being born and raised in Pontevedra). Well, that might not be the case much longer – assuming that he has good taste.
The mayor of local seaside town Sanxenxo (where Sr Rajoy has his apartment), has decided that he wants to paint the town red – together with several other colours of the rainbow. Apparently this has something to do with art, and is the "brainchild" of a local art student (who apparently wants to transform the town into some sort of circus).
Translated, the artist claims that we can "walk alongside a rainbow full of reminiscences and stimulate our senses with this chromatic circle (it will be painted on a long curved wall), filling our steps harmoniously". Translated, I still don't know what it means, but my own translation would be "ugly and tasteless"….. but then, that's art!