Donald's new resort
April 25th, 2018 | Fake News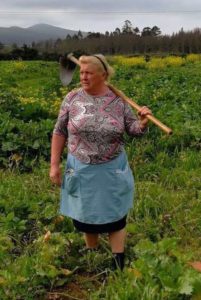 It's quite a well-known fact that Mariano Rajoy, the Spanish Prime Minister is Galician, and spends much of his vacation time here in Galicia – or Sanxenxo to be more specific, about 12km from our Bodega. Indeed, when we are there in summer it is not uncommon to see groups of rather sinister looking security guys hanging round on the street corners adjacent to his building.
However, another more closely guarded secret is that U.S. President Donald Trump also spends some time here (although it can be quite difficult to hide the huge outline of Air Force One as it touches down on the tiny Vigo airstrip).
In today's photo we can see Donald (clearly in some sort of hi-tech disguise) as he breaks ground on his new golf resort in our Province.
(Fake News Alert!)
Addendum: I forgot to mention that this is not a 'shopped' photo, but is actually a real Galician woman called Dolores Leis.