Albariño v Rias Baixas
March 14th, 2018 | Rias Baixas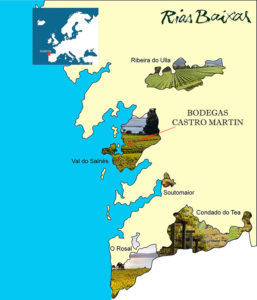 Only a few days ago, during a conversation with another wine professional, I very quickly realised that there is still some confusion surrounding the difference between an 'Albariño' (made in Rias Baixas) and a Rias Baixas wine. (If that statement is not already confusing enough!)
In some regions of the world different grape varieties can be blended to create a wine, but then the label might only mention the predominant grape variety. A Sauvignon Blanc for example, might have a small percentage of Semillon in the blend, but then this fact might only be mentioned on the back label. These wines will most likely originate from the 'new world' where the strict rules of a D.O., D.O.C., or A.O.C. do not apply, and where perhaps, the mention of a very specific geographical area is not required. Rias Baixas is different.
As far as "Albariño" is concerned the rule of the Rias Baixas denomination is actually quite simple. For a wine to be called Albariño it can only be made from 100% Albarino grapes (originating from within the D.O.) Albariño grapes from within the different sub-zones can be blended together, but every single grape has to be 100% Albariño. Simple!
Our D.O. actually permits six different white grape varieties to be used, but even if only 1% of a second grape variety is added to a blend containing 99% albariño, then the wine cannot be called, or sold as Albariño. A wine of different blended grapes from our denomination can only be known as 'Rias Baixas'.
Whether the wine is 100% albariño or not, it can still also carry the name of it's sub-zone of origin (assuming that all the grapes are gathered from within that zone). So, for example, you can have a Rosal Rias Baixas (made from the different grape varieties of Rosal), or you can have an Albariño Val do Salnes, Rias Baixas (made from 100% Albariño grapes ALL originating from Salnes Valley).