Albariño & Dumplings
February 16th, 2018 | Fiestas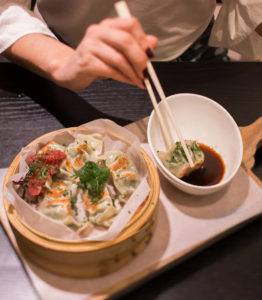 Xīnnián kuàilè – New Year Happiness! Today is Chinese New Year. It is the year of the dog, the dog being the eleventh animal of the twelve year Chinese calendar cycle.
The typical dishes served for Chinese New Year are those that we have all come to know and love – the dishes that we find on the menus of our favourite local Chinese restaurants – spring rolls, noodles, dumplings, vegetables, steamed chicken and steamed fish. In addition to this, the centre piece of a special New Year meal is often a Chinese hot-pot known as huõ guō, and there will almost certainly be rice cakes (nian gao), which can be served as either sweet or savoury.
Many of these dishes, such as the dumplings, will be either filled with, or accompanied by Chinese cabbage, onion, pork, shrimp as well as egg, bamboo, meat and vegetables. Of course, many of these items are the foods that often recommend with albariño, and so, for this important celebration, with hand on heart, we can truly recommend our Castro Martin albariños with your Chinese New Year meal.