Looking for a leak
January 30th, 2018 | Bodega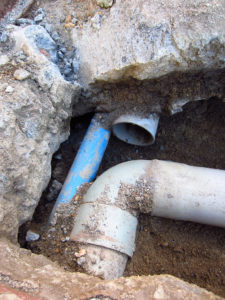 Just before Christmas I wrote about a serious leak from a water pipe in the ceiling above the tank room of the bodega. Well, the saga continues even now. As in the case of many a water leak it isn't always easy to find the exact source, because, as we all know, water will simply permeate until it eventually finds a place to escape (in this case the ceiling of the bodega).
Nearly one month later, and after much digging and breaking of concrete, we hope that we might have finally located the origin of our mini-waterfall. So now it is simply a question of repairing all the holes and self-inflicted damage that we have caused during our search. The first steps will be sand, cement and concrete (including waterproof membranes and paints), and then finally, repairing and re-painting the ceiling of the tank room itself.
By the way, just in case you were wondering, we were able to isolate certain sections of our water network and these have been cut off during the search – the water was not been pouring through the roof for the entire month! Fortunately, we have other sources of water to work with and we were not completely dehydrated…..