Christmas tipple
December 26th, 2017 | Fiestas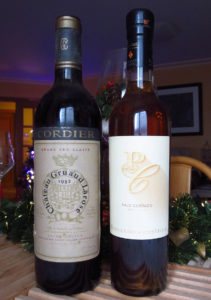 I have to say that this year's choice of wine for our Christmas lunch at home was something rather special… Yet again, it was a bottle that I found undiscovered in a dark corner of my private cellar. Unfortunately I think this is the last of my 'dark corners'! I was looking for something to go with a huge rib of beef that I had bought (which, by pure luck, just fits into our oven). I knew that I still had at least one or two Bordeaux Châteaux that I bought many years ago (not quite 'en primeur', but shortly after, whilst they were still affordable). I was under the impression that they were mostly 85's until I discovered one single bottle of Château Gruaud-Larose 1982! Even today, in recent tastings, this wine has still been rated in the mid-90's, and is worth more than just a few Euros (I hate to think). Well, it won't keep forever, I thought to myself.
Apart from the usual difficult cork (no matter how carefully you attack it), the wine was quite astonishing. For a wine that is now some 35 years old (the same age the first vintage made at Castro Martin), it had a deep garnet colour, showing surprising little ageing at the rim. Although the nose showed elements of maturity, with hints of leather and cigar box, it was full, ripe and very concentrated – typical of many of the Cordier wines from around that time. The palate was bold and ripe with a core of dark bramble fruit – still quite youthful for a wine of this age. With a good balancing acidity, it was a very memorable glass indeed.
I guess my only regret is that this was just a single bottle…. Bottoms Up!