Circumnavigating Vigo
December 11th, 2017 | Odds & Sods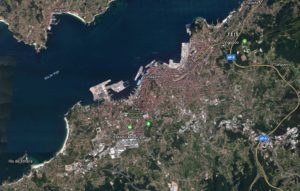 To be honest, when friends and visitors ask me, I've never really recommended Vigo as a place to visit – Santiago de Compostela always, La Coruña sometimes, and also Pontevedra on occasions, but never Vigo. It's not exactly a 'pretty' place, there's far too much faceless 1970's architecture, and not too many tourist sites of special mention. It's a very important industrial fishing port, but not much more than that.
I usually only visit when I have chores to do, and so last week, on our bridge day, I went there for a couple of things. The first errand was in a place that I know well, whilst the second was in a place that I really don't know at all. Fortunately I managed to find both (without the aid of satnav), but then, when it came to the return journey, then that was another matter….
A combination of the unfamilar roads, changed priorities and a couple of diversions left me, quite literally driving in circles – stuck in a never ending loop. For nearly half an hour it was like being stuck in a maze – trying a different route each time, but then always ending up in the same place. Of course, owing to the road closures satnav wouldn't necessarily have helped, and so it became simply a matter of trial and error. Groundhog day with traffic! I am convinced that the traffic planners in some of these places clearly never have to use these routes themselves, or perhaps they don't even drive… that's just my theory anyway.