Not quite the Wall of Jericho
November 20th, 2017 | Bodega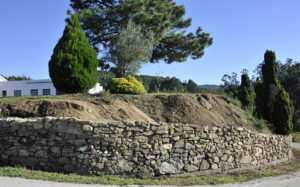 For the last decade or so there has been a small mountain of granite stones idling at the back of our bodega. (These were rocks dug out of the ground when we created our one hectare vineyard that surrounds the bodega). Some were used as ballast to fill the floor space for our recent grape reception extension, whilst the rest…. Well, Angela had other plans.
There is an access road to the back of our bodega, which climbs from street level at the front of the bodega to our second floor level at the back. With the grape reception located at this second floor level it enables us (by design) to move fruit and grape must around the bodega mostly by gravity. This access road was also built by hand, by our own people, hewn out of the side of the hill and then covered with a layer of stone and concrete. Before this it was just a rough track, and the vehicles delivering fruit during harvest were always in danger of spilling a case or two as they bumped and bounced their way up the hill!
So now Angela's dream has finally come true. The rest of the rocks have been used to create a dry-stone wall at the side of this access road. Although you can't really see from today's photo, the wall must be at least 50cm thick (nearly 2ft), and will eventually support some of the soil from the bank behind it. The guys in our team who built it are really multi-talented.