So after all… it's our wonder wall!
November 13th, 2017 | Bodega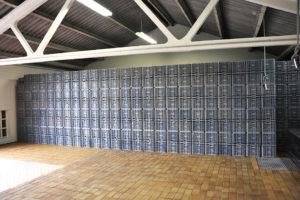 We have quite a few tough, and sometimes boring tasks to complete during our working year – for example, pruning is one that I often quote. After the harvest, however, we have to complete many different cleaning chores, one of which is cleaning all the plastic cases used for gathering the grapes. More than 2,000.
Until we can work out a better system, this is all done by hand, or rather with high pressure jet washers. Whilst we do wash the cases between uses, as they are constantly re-cycled during the picking, they still tend to build up a layer of dust, and always tend to look a bit grubby at the end of the campaign. The washing process occupies two or three people for a period of about two weeks, before they are stacked in the grape reception ready for next year.
These cases, like the presses, the pressing room and the grape reception itself are simply the materials and parts of the bodega that sit completely dormant for about 11½ months of the year!