Seduced by sugar?
October 31st, 2017 | Tasting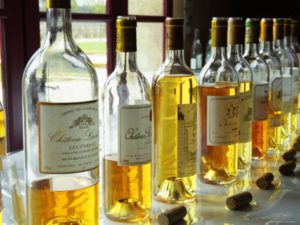 Interesting…. I have read two articles in the last few days that have slightly opposing views about residual sugar in wine. A few days ago this heading appeared on the Snooth website:
Sweet Bordeaux is the new black
"Older generations of wine drinkers are taking cues from a younger generation that see the possibilities of Sweet Bordeaux white wines to create new and unique dining experiences. Sweet Bordeaux wines can be enjoyed in a multitude of Instagram-worthy moments throughout a meal. And they are available at an accessible range of prices, from value to premium and everything in between.
Sweet Bordeaux is operating around the world to promote the consumption of fruity and aromatic Bordeaux white wines through master classes, trade tastings, and trade shows. They also organize press trips that expose wine professionals to the possibilities of Sweet Bordeaux, especially when it comes to food and wine pairing". Snooth – October 29, 2017
This article appears to suggest that the move toward sweet or sweeter wine is something of a new trend, whereas the history of wine drinking, especially when it comes to residual sugar, appears to reveal a slightly different viewpoint. Written by my learned friend Tim Hanni MW.
I must confess that the stats relating to amount of residual sugar in some of these old wines took me somewhat by surprise.