River of fire!
October 24th, 2017 | Galicia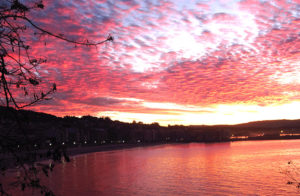 I am by no means undermining the devastating fires that we suffered in our region last week, but it is a relief to know that, thanks to some timely rainfall, and the heroic efforts of our fire crews (also not forgetting the brave Galician people themselves), this disaster is now pretty much behind us. Of course we still mourn the loss of three people who lost their lives in such a terrible way.
This morning, when I was leaving home, I witnessed a fire of almost the very opposite kind – the sea and the sky on fire, with a wonderful sunrise over the Ria de Pontevedra. Feeling positive from this amazing view, this simply reminds us that we are lucky to live in such a beautiful corner of Spain.