Mickey Mouse Wine – Part Two
October 20th, 2017 | Food & Wine
[:en]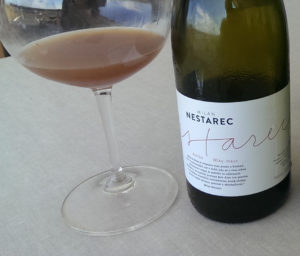 Continued from Part One….
Don't ask me why but this second wine was actually called 'Antika Mickey Mouse' (I later discovered that this was simply because the owner is a fan, and was probably a better name option than his other wine which is called Antika Podfuck). This Czech wine was completely 'natural', hailing the South Moravia region of the Czech Republic, and when I say natural, I really mean natural. The 8 hectare vineyard of Milan Nestarec was created as recently as 2001, and the wine is made in such a way that there is pretty much no intervention, either in the vineyard, or in the wine cellar. A blend of Chardonnay, Traminer, Pinot Gris and Gruner Veltliner with fermentation on the skins for a period of 10 days, followed by period of ageing in oak barrels. There is no filtration, no clarification, and that's it. The resulting wine almost defies description, and to honest, I was happy that I was only offered a glass to sample, and didn't buy the whole bottle (it would be impossible to finish). In the glass it was a murky brown opaque colour – visually not inviting. On the nose…. well, I just don't know – not like any wine I have ever sampled before. Weeks later I am still searching for a way to describe it – Earthy? Wet straw? Some type of acetone plastic? Bizarre! The palate was a complete surprise – it had some weight to it, but with a really savoury and quite salty flavour – for me a wine that you could sip, but not drink. Natural or not natural, I didn't really like it.[:es]
Continued from Part One….
Don't ask me why but this second wine was actually called 'Antika Mickey Mouse' (I later discovered that this was simply because the owner is a fan, and was probably a better name option than his other wine which is called Antika Podfuck). This Czech wine was completely 'natural', hailing the South Moravia region of the Czech Republic, and when I say natural, I really mean natural. The 8 hectare vineyard of Milan Nestarec was created as recently as 2001, and the wine is made in such a way that there is pretty much no intervention, either in the vineyard, or in the wine cellar. A blend of Chardonnay, Traminer, Pinot Gris and Gruner Veltliner with fermentation on the skins for a period of 10 days, followed by period of ageing in oak barrels. There is no filtration, no clarification, and that's it. The resulting wine almost defies description, and to honest, I was happy that I was only offered a glass to sample, and didn't buy the whole bottle (it would be impossible to finish). In the glass it was a murky brown opaque colour – visually not inviting. On the nose…. well, I just don't know – not like any wine I have ever sampled before. Weeks later I am still searching for a way to describe it – Earthy? Wet straw? Some type of acetone plastic? Bizarre! The palate was a complete surprise – it had some weight to it, but with a really savoury and quite salty flavour – for me a wine that you could sip, but not drink. Natural or not natural, I didn't really like it.[:]