Mickey Mouse Wine – Part One
October 19th, 2017 | Food & Wine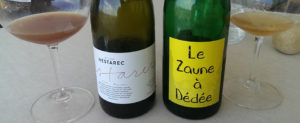 Today's post ended up being a bit too long – so I will split it into two parts.
There is a lot of interest these days in Natural, Organic and Biodynamic wine. Without entering into the technicalities I can tell you that these wines do not exist anywhere in our denomination – there is only one certified vineyard, but no certified wine cellars. It is quite simply that our climate makes this classification almost impossible. However, that's not to say that we are not open minded, and we certainly enjoy trying these wines when the opportunity arises, sometimes with mixed results.
Earlier this summer I had the opportunity to try two such wines, one from France and the other from the Czech Republic.
As you may know, I am already a great fan of the wines of the Jura region of France, and more especially of the Savagnin grape variety. There are many small 'artisan' producers in this region, and they often produce varied and fascinating wines. I was offered a 'Vin de France', effectively a table wine without AOC, but I was soon to discover why. The wine 'Le Zaune à Dédée' was made from a blend of late-harvested Savagnin grapes from the Jura, and Gewürztraminer grapes from the neighbouring Savoie region. A wine macerated and then vinified 'sous voile' (aged under a fine 'flor', or film of yeast in the barrel, similar to many other wines of the Jura, and also a technique used in sherry making). The resulting oxidative style of wine is extraordinary. Not only is the wine slightly opaque, but it is pretty much orange in colour – many people would probably refuse it on sight alone! It has a nose that is so interesting and complex, that I could sit all day just smelling it (but come up with a different nuance every time). It has an overpowering aroma of honey, burnt orange, and perhaps a hint of lychee from the Gewurzt. From the honeyed smell you would be forgiven for thinking that it might be sweet on the palate – but not at all – it really misleads you in this respect. On the palate there are just so many exotic flavours, fused with hazelnuts and perhaps just a hint of salinity. But if I thought that this wine was difficult to describe, then the second left me with a blank tasting sheet!