A drop of Chablis with your cornflakes?
October 10th, 2017 | Odds & Sods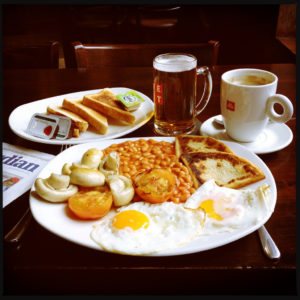 On one or two odd occasions (Sunday brunch for example), we've probably all indulged ourselves in an odd 'beverage' or two – maybe a Bloody Mary, Mimosa or something similar? For me at least, drinking wine or alcohol too early in the day has never felt quite right, but that's probably just a person thing – each to their own I guess.
In recent years however, there are some worrying trends that have developed, all related to early morning drinking. For example, a common sight at many UK airports are groups of young men and women, enjoying their traditional full English breakfast….. with drink in hand. This sometimes extends to several drinks, eventually culminating in unruly behavior, even on early morning flights. The problem appears to be that once border control has been cleared, then normal UK licensing hours don't apply, and so travellers are free to drink what they like. It is becoming quite a problem for the airlines – air rage fueled by alcohol.
I was a little perplexed therefore to read what I assumed to be a 'serious' article entitled "8 breakfast wines you should be drinking" – some restaurants are now apparently offering a wine list with breakfast. The recommendations rather depend on what you are ordering, but the majority of those offered are white, ranging from crisp, fruity white, to sweet white (intended to accompany your pancakes!). There is even one suggestion that a chilled, light red could be teamed up with your bacon dishes, albeit I find that eggs are notoriously difficult to marry, and most red wines would probably be rendered metallic, harsh and astringent by a 'runny' egg yolk.
Personally, I think that wine with breakfast quite a bad idea, and believe that a line has to be drawn somewhere, and round-the-clock drinking should not be encouraged. Whatever happened to 'responsible drinking' and 'wine in moderation'? Has that now become an old-fashioned concept?