Wine making update
September 25th, 2017 | Bodega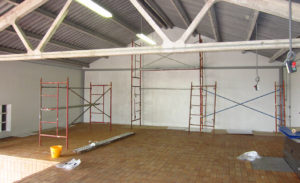 I just finished writing an e-mail to someone a moment ago, apologising that our bodega was in a bit of a 'limbo' state during their very recent visit. Meaning that whilst our obvious priority is the wine making, we are also undertaking cleaning, some re-painting and preparing orders. This period of activity is almost more exhausting than the harvest itself. Clocks and calendars are completely meaningless as all of our days fuse into one long extended week – weekends simply don't apply. Our work timetable is dictated entirely by all the essential cellar work as the transition from must into wine bluntly refuse to take a day off!
Unfortunately (from a rest day point of view), the weekend just gone was probably the busiest of the entire wine making process. With the fermentations well under way, as I have previously mentioned, there are quite a number of tank additions that have to be made at this time – bentonite perhaps being the most significant of these. Bentonite is our choice of fining agent, for clarifying our wine, and was first discovered in Fort Benton, Wyoming (so no prizes for where the name originates), and is a type of clay made from volcanic ash. Not only does the bentonite drag all the unwanted solids and dead yeasts to the bottom of the tank, but also helps to keep the wine stable during fermentation. As it is a natural product, it also means that all of our wines are suitable for vegetarians.
Our grape reception area which was extended just before harvest, is now getting just a little more pampering as we give it a new lick of paint, just before we re-fill it completely with 2,000 empty harvest baskets ready for next year. For a space that is only used for 7-10 days a year, it's certainly had more than it's fair share of attention recently!