Grapes into wine
September 18th, 2017 | Uncategorized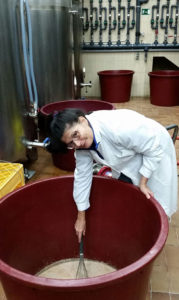 At this time of year, when I am writing about our harvest, I am always very aware that I am probably repeating the same stories over and over again – such is the nature of our business – a cycle that repeats itself every year. Of course there will be differences, especially as it is nature that plays a very large role in dictating the quality of our fruit. As mere passengers all we can do is adjust to the harvest that we are given. Fortunately 2017 has been very kind to us, and as I have already mentioned, we have some very good raw material to work with.
Having said that everything is repetitive, I really should qualify that by saying that we are always looking for ways to improve what we do and never standing still. We examine our procedures to make them as efficient as possible (getting the fruit from vine to tank as quickly as possible is our prime objective at picking), and once inside the cellar we sometimes make small adjustments too. I say small adjustments because generally speaking we are quite happy with our overall results year-on-year, and so never want to do anything too radical to change that. We always want our albariño to taste, well….. like albariño, or perhaps more specifically, Salnés Valley albariño.
In the past I have mentioned that we are obliged to seed our must with cultured yeasts (as the natural yeasts that occur are simply not strong enough to support a complete fermentation), so clearly this involves a very careful selection. These days it is all to easy to mask the natural fruit with aromas and flavours that are not necessarily representative of our grape variety, and so our first objective in selection is always to make sure that albariño remains at the forefront. Each year we might experiment a little, by making one small tank of wine using a new yeast, and comparing the result to our more usual wine making recipe. It is interesting to note that this year, by co-incidence, we will be using three different yeasts – one of French origin but coming from Australia, one from Auckland in New Zealand and another from Stellenbosch in South Africa. Who said that wine making is not an International business?!