Harvest 2017 – Day 7
September 12th, 2017 | Bodega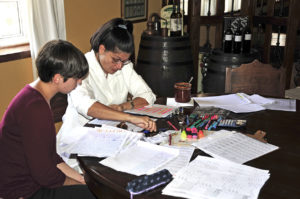 Our 2017 harvest will be completed today – no loud cheers just yet however, as we start to plan for the next phase – the small matter of wine making.
Monday, our final day, didn't start too well. Firstly it was grey and overcast, with just a little light rain. However, as has been the case for the last few weeks, this early morning gloom soon cleared up, and by 10 or 11am clear skies had been restored. In the early part of the day, we had our first small technical hiccup of the harvest – our (electric) forklift broke down quite literally in the middle of our grape reception where we unload the vehicles. Clearly this is a super heavy machine, and not simply something that you can push out of the way. We called for the engineer, in the hope that the machine could be moved before our final few grapes of the year arrived. Thankfully, we managed to get this done.
In the meantime, on a slightly quieter day (receiving only a little fruit, and just before wine making), Angela was catching up on some administration. From the photo you will see that she clearly doesn't trust our new computer software, and has continued to make hard copies of everything (technically I think this is known as 'back up'). It could also be because Angela is the 'queen of the coloured pencils', and that she keeps four copies of everything. There is another technical term for this – but it's just a bit too rude to post!
At the end of the final day we had actually only made a couple of pressings, just 'mopping up' the last few grapes. I will write a more detailed summary, perhaps tomorrow if I have the time, and those of you unlucky enough to be on my contact list, will eventually receive my slightly longer vintage report. Good night and God Bless!