And the prep goes on
July 31st, 2017 | Bodega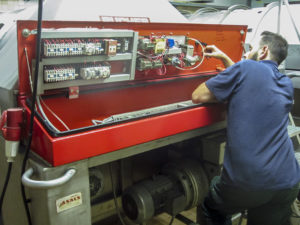 I know that this gets pretty boring, but please don't forget that our harvest and wine making is a cyclical process that repeats itself over and over again (wow, I was tempted to make a comment about Angela there, but I resisted). Having said that, no two vintages are exactly alike, although the build up and preparation that we have to make is more or less the same.
Apart from all the bottling that we are doing, we also have maintenance guys working in the bodega. Not our own guys this time, but outside contractors who service all the heavy machinery that we rely on at harvest. Of course, the key pieces of kit are the presses, and so, quite naturally, these get a priority inspection and service. When the engineers work on the presses then, quite naturally, they have to test them. The noise that our presses make is very distinctive and reverberates around the whole bodega……. and for us this noise can only mean one thing – harvest is imminent! Long days and nights in the bodega are beckoning.
It's been a while since I mentioned the weather, so here's a quick update. The last week or so has been very changeable, some sunny days, some cloudy days, some wet days. The rain that we have had has been light, perhaps just enough to refresh the vines, and daytime temperatures have not been excessive (usually around the mid-20's C – about 75-80°F). After inspection today, on a clear, sunny morning, our fruit is still looking healthy and progressing nicely.