Logistics!
July 24th, 2017 | Bodega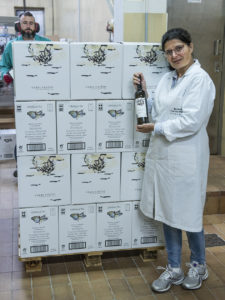 At this time of year planning, and more especially, forward planning is the key.
I mentioned only the other day that we had been busy racking wines, but the other very important procedure in our pre-harvest planning is bottling. Freeing up a few extra tanks to accommodate the new grape must. However, this year, there has been one major hiccup in that process.
Our bottle manufacturer was hit by a ransomware extortion attack, which pretty much closed down their entire production for a number of weeks. Obviously not having bottles during our peak bottling period is a bit of a handicap to say the least, but in the circumstances there was nothing we could do, except to wait patiently until our supplier's systems were fully restored.
Unfortunately our first delivery of bottles last week was also a bit of a disaster! We had been promised that our truck was loaded and leaving the factory in Bourgos, arriving with us first thing the following morning (with our entire team poised waiting to unload and start work). Not only did it not arrive, but we subsequently discovered that it was in fact, never loaded. No real explanation was ever offered.
Suffice to say that I am always at a bit of a loss to understand why, at the same time every year, Spanish industry appears to be taken by surprise when the holiday season kicks in, and they find themselves short-handed. Malware apart, there are always delays and missed deadlines when it comes to supply and delivery. Probably the biggest surprise of all is that I continue to be frustrated by these problems…