Never too old to learn
July 7th, 2017 | Bodega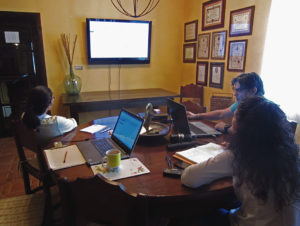 It occurred to me that on my recent list of ongoing tasks (keeping us super busy in the bodega at the moment), I omitted to add training. Yes, once a week, Angela, Luisa and myself attend a four hour session to learn all about our new software system. At the beginning of the year we launched our revised accounts system, which from this September (at harvest time) will be partnered by an entirely new stock control system.
However, this is no ordinary stock system, as it will record every aspect of our wine production in fine detail – otherwise known as traceability – from grape to bottle. In fact, I guess that the vast majority of people would be quite surprised by the amount of detail required, actually beginning out in the vineyards whilst the fruit is still growing. Every lot number of every treatment (organic or otherwise), used by both the bodega and our grape suppliers is recorded – together with dates and amounts applied. This level of detail (including lot numbers etc.) is carried through the entire wine making process, right down to the bottle and cork used to produce every single wine. Yes, even bottles and corks are allocated lot numbers.
Of course, the simple reasoning behind this being that if any one bottle is discovered to have a technical defect, then the entire batch (usually from a specific tank) can be withdrawn from sale, and the fault traced right back to the very grape with which it was produced, if necessary. The amount of information recorded for your delicious bottle of albariño is mind-boggling!
So not only do we now have to learn how the system works, but somehow we have to find the time to input all the data. Good job that the days are longer at this time of year…