Too hot to trot…
June 19th, 2017 | Odds & Sods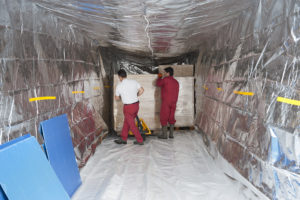 I should start by explaining that when we sell our wines within Spain then our sales tariff usually includes the cost of transport. However, for exporting goods to other countries then the story is the complete opposite – we never arrange transport for the orders of our export customers.
Unfortunately, this sometimes leaves us with a bit of a conundrum. When we are hit with a heatwave (as we have been for the last few days, with temperatures well into the 30's C (90's F)), then the question arises, who is responsible for making the decision whether to load the truck or not? Who will be liable if something goes wrong and the wine is damaged? The fact is that we have only a couple of long-haul customers who regularly take precautions when it comes to the temperature control of wine in transit, whereas the vast majority simply rely on normal road trailers or containers (and keep their fingers crossed!). However, if goods are crossing Europe on a two or three day odyssey when the temperatures are excessive, then this is clearly not the best way to keep our product fresh. (In our history there have been only a couple of occasions when pallets have been left exposed and corks have been pushed from the bottles – both beyond our control).
From our side the answer is simple – if we think that the weather's too hot then we inform our customer, and allow them to take the decision – I think it's called covering your ****!
(Today's photo shows a container protected with a Vinliner – not the ultimate type of protection, which is full refrigeration, but certainly offering some degree of temperature control)