Shelf life – the myth about Albariño
April 24th, 2017 | Food & Wine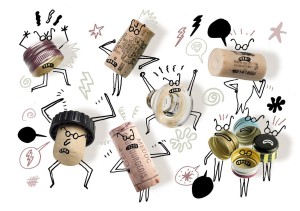 It was not too many years ago that popular belief pretty much dictated that albariño needed to be enjoyed whilst it was young, in it's infancy, almost as a 'primeur' wine. Since that time (and especially here at Castro Martin), we have been working non-stop to educate our customers that this idea is simply a myth. However, in order to improve and preserve the longevity of any wine there are still many factors that need to be taken into consideration. Of all the different factors that can influence ageing potential some of the most important/obvious include:
The structure of the wine itself – that it is well balanced and vinified accordingly (for example, extended lees ageing will add longevity, whereas rapid fermentation at warmer temperature will often produce short-lived wines).
That it is bottled correctly, and protected as far as possible against oxidation – this includes the correct levels of sulphur and most importantly the type and quality of closure used.
That the wine is transported and stored correctly, preferably in a cool, dark cellar.
As you may already know we take the business of closures very seriously, not just from the point of view of avoiding taint, but perhaps more importantly, in order to 'manage' the ageing process. There are actually several types of closures on the market these days that allow contolled levels of OTR (Oxygen Transmission Rate) which enables the wine maker to maintain at least some degree of control over the speed at which their wine will evolve (assuming that at least some of the steps mentioned above have been followed). Of course, there can be no absolute guarantees attached to this idea, and then added to this equation is the experience and/or personal taste of the individual consumer. Some will prefer to drink their wine fresh and fruity, whereas other might prefer to wait for wine to mature, developing slightly more complex 'secondary' aromas and flavours.
I should mention that on our recent trip to the States (in Spring 2017), many customers were actually blown away by our 2013 and 2014 albariños. Not specially selected cuvées, simply wines with a bit of bottle age tasted straight 'off the shelf'.