Flying in the pointy bit
April 18th, 2017 | Odds & Sods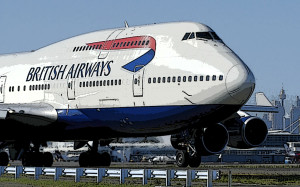 You may already know that, owing to adverse weather conditions, the outward leg of our recent trip to the U.S.A. was re-routed via London, and also included a change of carriers, from Iberia to British Airways. Owing to the fact that our journey was so eventful, it didn't occur to me until after the flight that it is possible we were sharing the flight with our own wines. The difference being that we were in the cheap seats at the back, whilst our wine could have been in the pointy bit at the front….. First Class.
We are proud to say that we have been working with British Airways for several years now. although our supply to them is not continuous. The explanation is that First Class passengers are naturally quite loyal to their preferred airline, and therefore there is a high degree of 'repeat business' – the same passengers flying the same routes on a regular basis. To counteract this, British Airways rotate their wine lists, not only over different time periods, but also on different routes. For one listing we might be on North America and the Caribbean, on another we might be on Asian, and so on, The point is that we simply send the wine out, and usually have little idea where it might end up, or how many air miles it will clock up! Therefore, it is possible that our wine was sharing the same flight as us, but we simply didn't know it.
In 2016 British Airways' First Class customers consumed more than 160,000 bottles of champagne, 133,000 bottles of red wine and 150,000 bottles of white wine on board flights, and in the same year were voted the best overall cellar at the Business Traveller Cellars in the Sky Awards. We would like to believe that Castro Martin might have played a very small part in achieving that recognition.