New Year Fizz
January 2nd, 2017 | Fiestas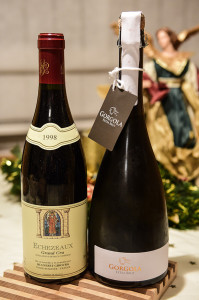 I think it only appropriate that my first post of the New Year should be about sparkling wine, as it is very common to associate popping corks with this time of year. Without wanting to sound too arrogant I do consider myself to be something of a Champagne aficionado, and pretty much every Christmas and New Year for as long as I can remember, have always pulled the cork on a nice bottle – except for this year!
A few months ago whilst sampling a 'wine flight' in a good restaurant, I was served a glass of Albariño 'espumoso' as an aperitif. I have tasted (and actively disliked) almost every sparkling albariño that I have tried before, but I had now, finally, discovered an exception! A wine called Gorgola made by Cabana das Bolboretas. I believe that this Galician name could be something to do with the small bubbles that break the surface of the sea creating the foam (I will have to research this more).
Gorgola is made by hand, on a very small scale using very traditional Champagne methods. The bottle I tried was a 2013 'vintage', made using only base wines of this single cosecha and using exclusively albariño grapes – this being the case no blending was required. It was disgorged in Spring 2016 after some 26 months of secondary fermentation/bottle ageing. Classified as 'Extra Brut', it was very dry (between 3g and 6g residual sugar), and so there was no discernible sweetness.
Technically a 'Blanc de Blancs', it had a dry, almost flinty, mineral fruit, but then a unique characteristic that made it quite recognisable as an albariño to the discerning palate. It had the typical salty zest on the tongue, that gave it a special character, and in my opinion, certainly worth giving a try.
(By the way, the Echezeaux 1998, Domaine Mugneret-Gibourg wasn't too shabby either!)