Christmas wine
December 27th, 2016 | Fiestas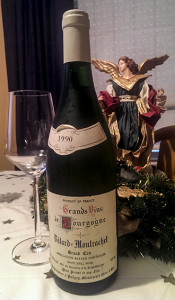 For the last few years I have always cooked something slightly less traditional for Christmas lunch – often a nice piece of roast beef, which is not a very common dish here in Spain. In a butcher's shop for example, a piece of beef for roasting is often simply described as 'rosbif', and that is how you would order it. There would be no mention of the cut that you might require – rib, sirloin, rump etc., simply rosbif.
This year, as a nod to the British tradition, I decided to cook Turkey, albeit that I did cheat a little – my bird was pre-stuffed with chestnut and macadamia nuts (to be honest, I was quite surprised to find this option). Preceded by seafood and a bit of smoked salmon, the turkey actually turned out quite well, even if I say so myself!
OK, so what about wine? Quite naturally we would usually promote our albariño with turkey, but I'm afraid to say that special occasions sometimes require something a bit different. I recently found a very good sparkling albariño (the first that I have really enjoyed), but I will write more about that in the New Year. Meanwhile, a dusty corner of my cellar turned up a very old bottle white Burgundy, very much in danger of being well past its best. Bâtard-Montrachet, Domaine Paul Pernot 1990 – given to me by the man himself many years ago.
After a bit of surgery with the cork (finally removed completely intact), the wine, as one might imagine, was a deep yellow/gold…. but not one bit oxidised I'm happy to say. The nose was full and fat, dominated by a slightly caramelised, toasted oak and honey. On the palate one of the most surprising factors was that despite all the rich, full, honeyed fruit flavours, there was still an underlying touch of minerality. It supported my turkey 'gravy' very well, and I thought was especially good with the smoked salmon.