Christmas Greetings from Castro Martin
December 21st, 2016 | Fiestas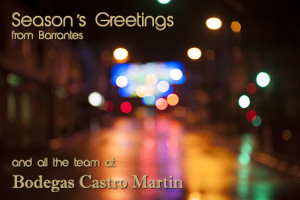 Firstly, and most importantly, we simply want to thank all our friends and customers most sincerely for their continued support during 2016. This is without doubt, the very best gift that we receive each year.
In many ways 2016 was a quite an uneventful year, albeit that we continue to increase our business on the high seas, this year adding Royal Caribbean to our growing list of cruise ship customers. I have to say that cruising is not really my thing, but should add that if we are ever invited to organise any on-board tutored tastings, then I will be the first to pack my bag!
The summer of 2016 (as you may already know), was hot and very dry. The resulting harvest was slightly smaller than usual, but with very concentrated grape must, slightly lower acidity and a touch more alcohol than usual. All the normal traits of a hot vintage. However, the wines are very ripe, fruity and attractive, and I have no doubt that they will be well received at their launch during 2017.
Finally, we simply send you our thanks and our very best wishes for a happy, healthy, peaceful holiday season and prosperous New Year.
Andrew, Angela and the team at Castro Martin