Burn, baby, burn!
December 1st, 2016 | Vineyards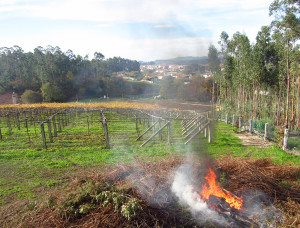 I know that I have written about burning our vine cuttings many times before, but when I think about it, this is pretty much inevitable….. When you consider that nearly all the work that we do is fixed to an annual cycle – pruning, harvesting, wine making etc., not surprisingly it all comes around but once a year! So, if you notice that I am repeating myself, then I do apologise, but then again, we also have to take into account that we do pick up new readers all the time. (On the other hand it could just be that I am a bit senile and don't remember writing about certain subjects before).
However, burning the vine cuttings is not quite as straight forward as you might imagine, it's not simply just a question of putting a match and watching them burn. We actually have to apply, in advance, for permission, and this is only granted at certain times of year. The reason for this is actually quite straight forward – the fear and/or control of forest fires. Permissions have a duration of one week, and can simply be suspended if the weather suddenly becomes too windy or excessively hot.
I should also mention that vine cuttings are very good for barbecues – so time to get the salchicas out!