Christmas is upon us!
November 7th, 2016 | Bodega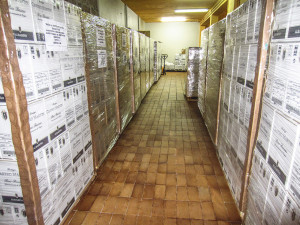 Now that both the harvest and wine making are pretty much behind us, the next significant event is almost upon us – the Christmas holiday season (am I still allowed to call it Christmas?). Anyway, whichever name you decide to use, the holiday season (including Thanksgiving), is always a busy time for us.
For the last week or two we have been busy preparing orders for shipment – many to Europe, but others for more distant shores. Part of our pre-harvest preparation is to fill the cellar with 'floor stock', labelled and ready to go, but much of this has already been sold, and so for the next few weeks our mission will be bottling more tanks of 2015 wine to replenish our depleted warehouse. (We bottle our wine throughout the year, as required, to keep the wine as fresh as possible – it keeps better in tank).