Yet another Savagnin
October 28th, 2016 | Food & Wine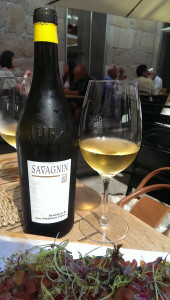 Several weeks ago (before the harvest), I made a post about finding a Savagnin Blanc from the Jura region, here in a local Galician restaurant. It was fabulous, as regular sherry drinkers, we really enjoyed it. Imagine my surprise therefore, to find yet another restaurant in Pontevedra, selling the same wine, same vintage, but from a different producer. OK, so it was not a true comparative tasting, but I simply couldn't resist the opportunity to taste another example. (Opportunities like this can be rare and have to be seized).
2011 Arbois Savagnin, Domaine Bénédicte & Stéphan Tissot: Certainly this wine was not quite as 'rustic' as the first example we tasted, perhaps being a bit more pure and refined. It still had a lovely concentrated, tangy fruit, again very much in a lively sherry style, with hints of walnut, but this time a more pronounced saline, salt-lick character. This is a lovely clean and very stylish wine.
Of course, there is one interesting thought arising from this. Normally, when we encounter this salty character (such as in our very own albariño or perhaps a fresh manzanilla from Sanlúcar de Barrameda), we usually attribute this to the proximity of the sea or ocean. In the Jura region of France this couldn't be further from the truth (or perhaps I should say, further from the sea!). Completely land-locked between Burgundy and Switzerland it is miles from any salt water or ocean influence – the nearest sea is probably the Mediterranean which is some 350km (220 miles) south of the region. I guess therefore, that this apparent saltiness can only be attributed to a combination of factors – grape, soil and climate. In modern tasting vocabulary it is probably just a slight extension to the expression 'minerality'.